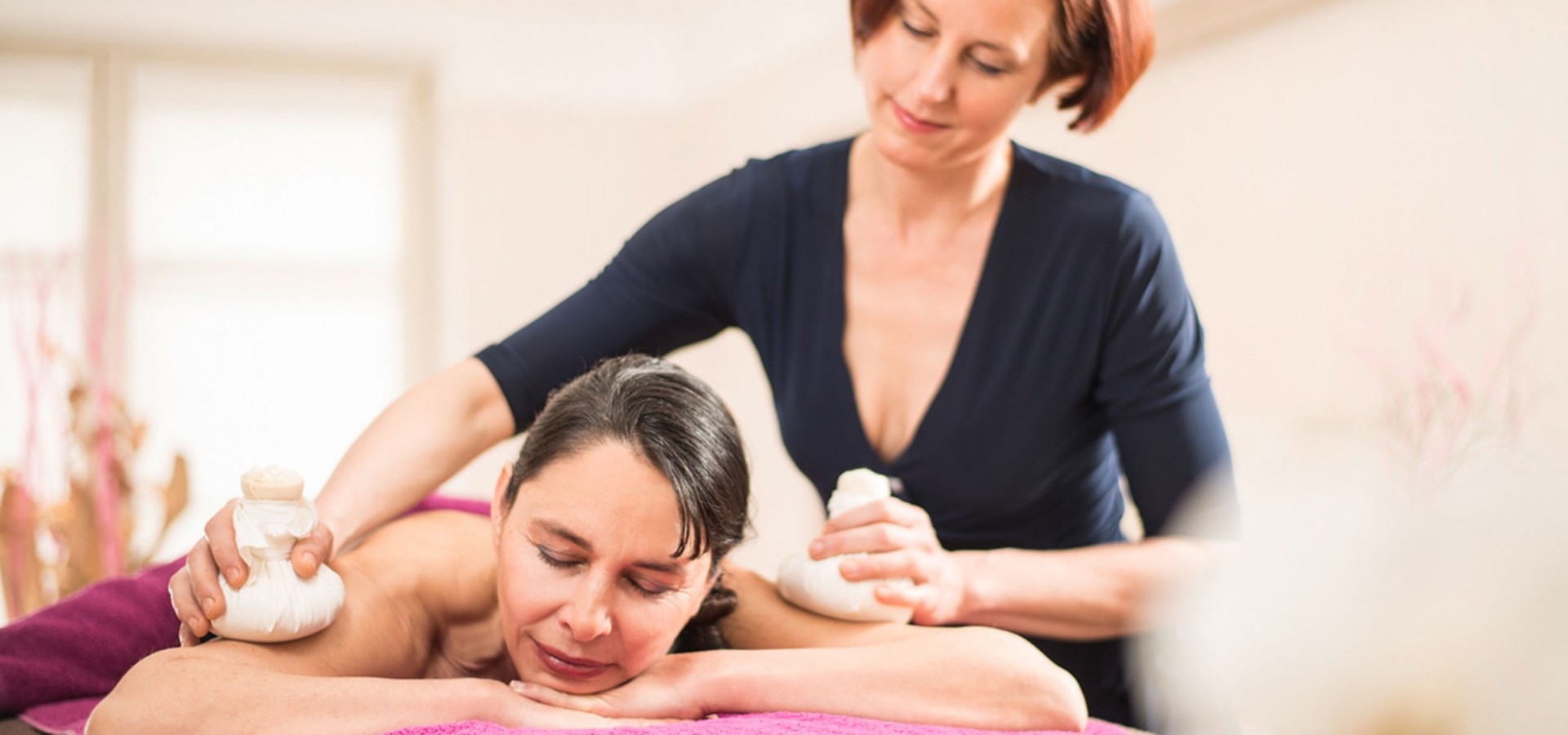 Massages
Intensive back and neck massage
Enjoy new energy and wonderfully relaxed back and neck muscles. Pure relaxation!
40 minutes | 69 EUR
Erbprinz full body massage Classic
This full body massage pampers you with ethereal oils and lotions to relieve tension and help you relax.
60 minutes | 89 EUR 90 minutes | 139 EUR
Hot stone massage
Hot stones made of black basalt are used in this massage to release deep-seated tension and to relieve muscle pain in the long run. This extraordinary full body massage removes the deepest energetic blockages and revitalizes body, mind and soul with new energy.
80 minutes | 129 EUR
Ayurveda style Asian massage
Our gentle relaxation massage with coordinated fragrant oils to make you feel revilitized. The blood circulation is stimulated, skin cells are regenerated and tension is released. Face and body massage.
80 minutes | 129 EUR
Energetic foot massage
The stimulation of the reflex zones of the feet has a positive effect on the organ, lymph and nerve systems of the body. It is no secret that the feet are the mirror image of the body and are directly connected to the soul. The blood circulation is stimulated and the body energy is harmonized.
50 minutes | 79 EUR
Head and face massage
This short, intensive head and face massage works wonders. Tensions are released, head and neck pain are relieved and within a very short time a deep, soothing relaxation is achieved. You decide what works best for you and how long you want to enjoy this massage.
40 minutes | 69 EUR
Oasis of beauty
Would you like an energetic, soul-touching and extraordinary experience that lets you step out of your everyday life and from which you return deeply relaxed and full of new energy? This massage starts with a body peel with a mixture of Moroccan Rasoul earth and argan oil. On request, we use special massage gloves to stimulate blood circulation. After the shower that follows, the skin is optimally prepared for the full body massage with exquisite argan oil, mixed with real rose essence, the ultimate natural luxury for your skin and senses.
Approx. 120 minutes | 235 EUR
Lomi Lomi Nui
This traditional full body massage comes from Hawaii. With unique long flowing massage strokes, gentle joint loosening and plenty of warm oil, this massage is a true island dream for your senses. Relax your body and mind to Hawaiian sounds.
90 minutes | 149 EUR 120 minutes | 195 EUR
Premium argan oil massage
Argan oil is also known as the "gold of Morocco".
The unique combination of antioxidants and essential fatty acids makes it one of the most valuable oils on earth. Your skin is effectively cared for by the argan oil. The complexion is lastingly improved and the skin is moisturized. Refined with real rose oil, this body and face massage is an experience for all the senses.
80 minutes | 129 EUR
Sand massage
Enjoy this ritual for warmth and well-being as a partial or full body massage. The gentle massage with warm quartz stamps and fragrant essential oils activates reflex zones and sets pleasant temperature stimuli. The blood circulation is stimulated, the removal toxins is achieved and tension is gently released. Experience moments of deep relaxation.
80 minutes | 129 EUR
Breuss massage
The Breuss massage is a sensitive, gentle and yet highly effective back massage. The spine and sacrum are stretched, the tissue relaxed. St. John's wort oil also relaxes the skin. The treatment is rounded off by energizing with the help of strokes on special tissue paper. An exceptional treatment from which people with intervertebral disc problems particularly benefit. The Breuss massage is the ideal preparation for the Dorn application. For this reason, the two methods are often combined.
45 minutes | 75 EUR
Breuss massage followed by Dieter Dorn's treatment
After the tissue has been optimally relaxed by the Breuss massage, the Dorn procedure corrects misalignments of the vertebrae and hips. It is a dynamic massage of the spine in which the client actively participates. The purpose of this procedure is to bring the vertebrae back into their original position in a gentle way and thus to correct misalignments. Acute blockages can be resolved gently and effectively.
Approx. 75 minutes | 120 EUR
Cosmetic lymphatic drainage
Relax deeply and enjoy this detoxication procedure. Cosmetic lymphatic drainage supports the work of the lymphatic system. The removal of waste products from the tissue is stimulated and congestion is reduced. The skin looks fresher and more refined. Moreover, this procedure is very relaxing and pleasant.
Face: 30 minutes | 49 EUR (only as an extra, not bookable individually)
Face and body: 60 minutes | 89 EUR
@ hotelerbprinz ON INSTAGRAM
Share your very own Erbprinz moments: #hotelerbprinz #erbprinz #iloveepe